Application scenarios of AiEMA
AiEMA can help you:
1. Pre-review BOM and PnP files to check the risk of data errors and omissions;
2. One-click completion of BOM intelligent selection, cost calculation, risk warning, and efficient solution of material procurement problems;
3. Simulate the 3D finished product renderings of PCB and PCBA;
4. Run DFM analysis tools to discover various design and manufacturing risks in advance;
5. Share BOM selection results, product previews, DFM analysis results with customers, colleagues, etc., share project information, and improve communication efficiency.
AiEMA User's Guidance
1.Login after registration
(1)Registration: Provide your email address, enter your user name and password. After verifying email address, you can complete the registration. As shown below:
(2)Login: You can complete the login through the email address and password during registration.As shown:
(3)Tip: If you encounter any problems during the registration/login process, you can contact the customer service staff by email: support@aiema.com
2.Workbench
(1)Your project
After successful login, you can experience AiEMA immediately. As shown in the figure, you can directly enter the workbench from the home page to start creating your project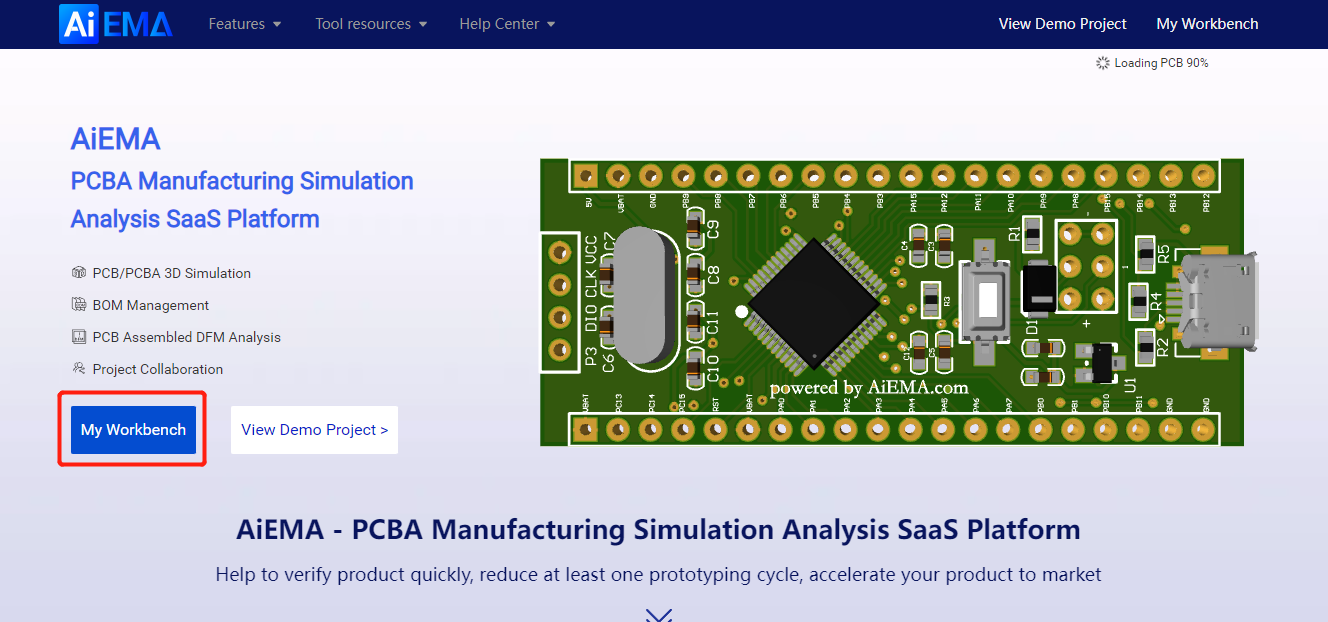 1) Click New Project and enter the project name
2) Upload project information, Gerber files (supported formats: .rar, .zip), BOM files (supported formats: .xlsx, .xls, .csv), PnP files (supported formats: .txt, .xlsx, .xls, .csv), if you need to update the file version, you can upload it again, and the data will be updated synchronously.
3) After the file upload is complete, you can preview the PCB, PCBA 3D finished product simulation diagram, view the BOM material option results, manage BOM coordinates online, run DFM analysis tools, share project information, and more.
Your project information and project data will be kept strictly confidential. If you share a project, others can view your project information through the project link.
(2) Project operation
1) PCB Gereber 3D browsing
You can zoom in, zoom out, rotate and translate the PCB through mouse operation; click the tools in the toolbar: dimension measurement, adjust the view angle, view in layers, etc. If there is any problem, you can reload the PCB.
2) BOM material matching
The system will perform AI matching based on the BOM table you uploaded. The matching results include: matching model, AiEMA supply price, product usage and spares, AiEMA inventory, unit price and the total price of the corresponding usage... If the material does not exactly match, you can Manually change the model to complete your final selection.
If there are modified or newly added materials, you can also re-upload the BOM data here.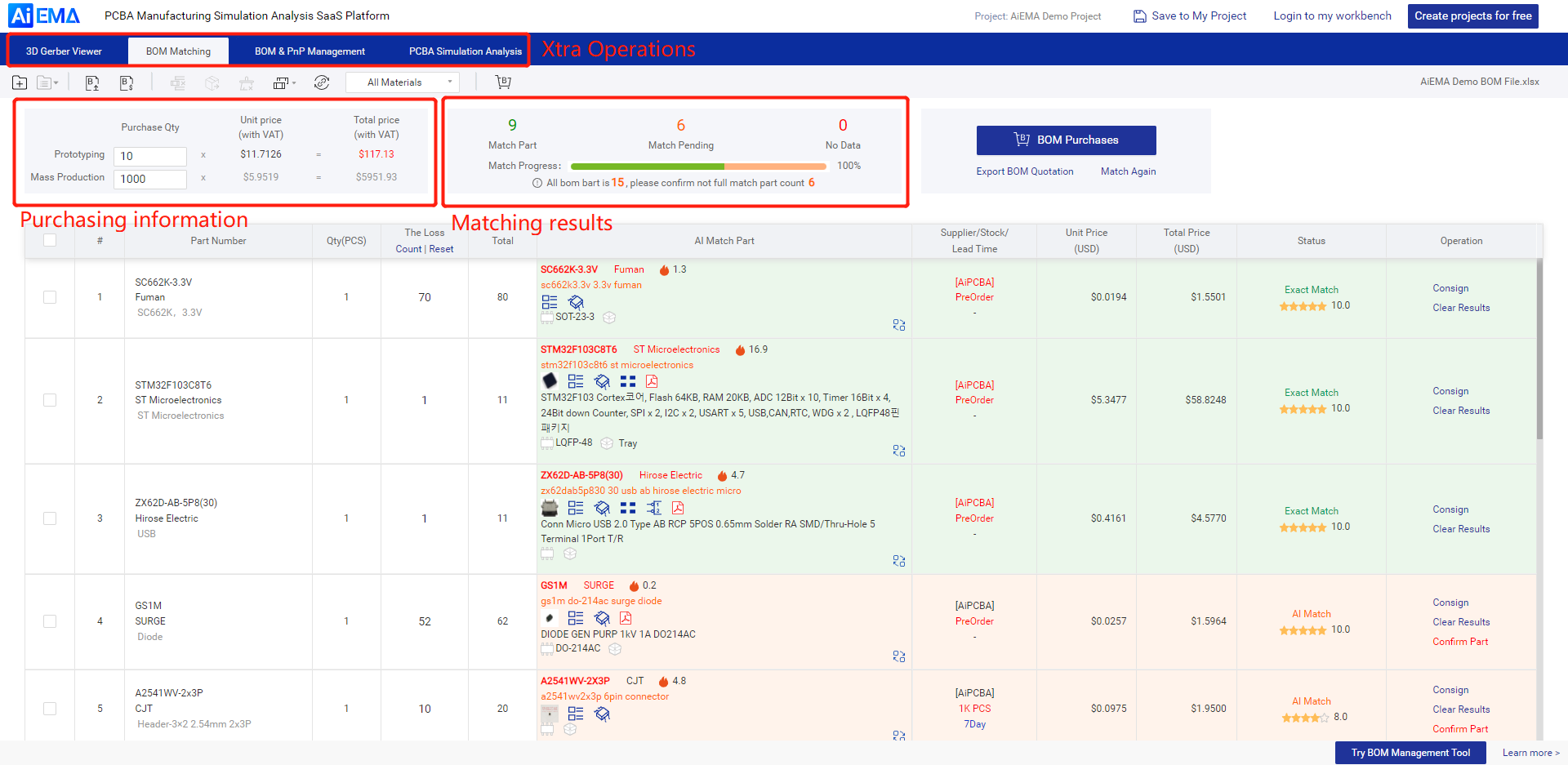 3) BOM coordinate management
When importing a BOM file, the system will intelligently identify table data such as file column names, models, and packages. You can manually proofread and modify column names, choose to hide or display columns, or add new columns according to actual conditions.
The BOM coordinate management page will display the content of the BOM and PnP files. You can edit your data here, and the modified information will be updated to other functional modules such as BOM matching in real time.
If the quantity, bit number, package, parameters and other information are wrong, a risk reminder will be given. You can modify and correct the current data after confirmation, so as to avoid the risk of placement.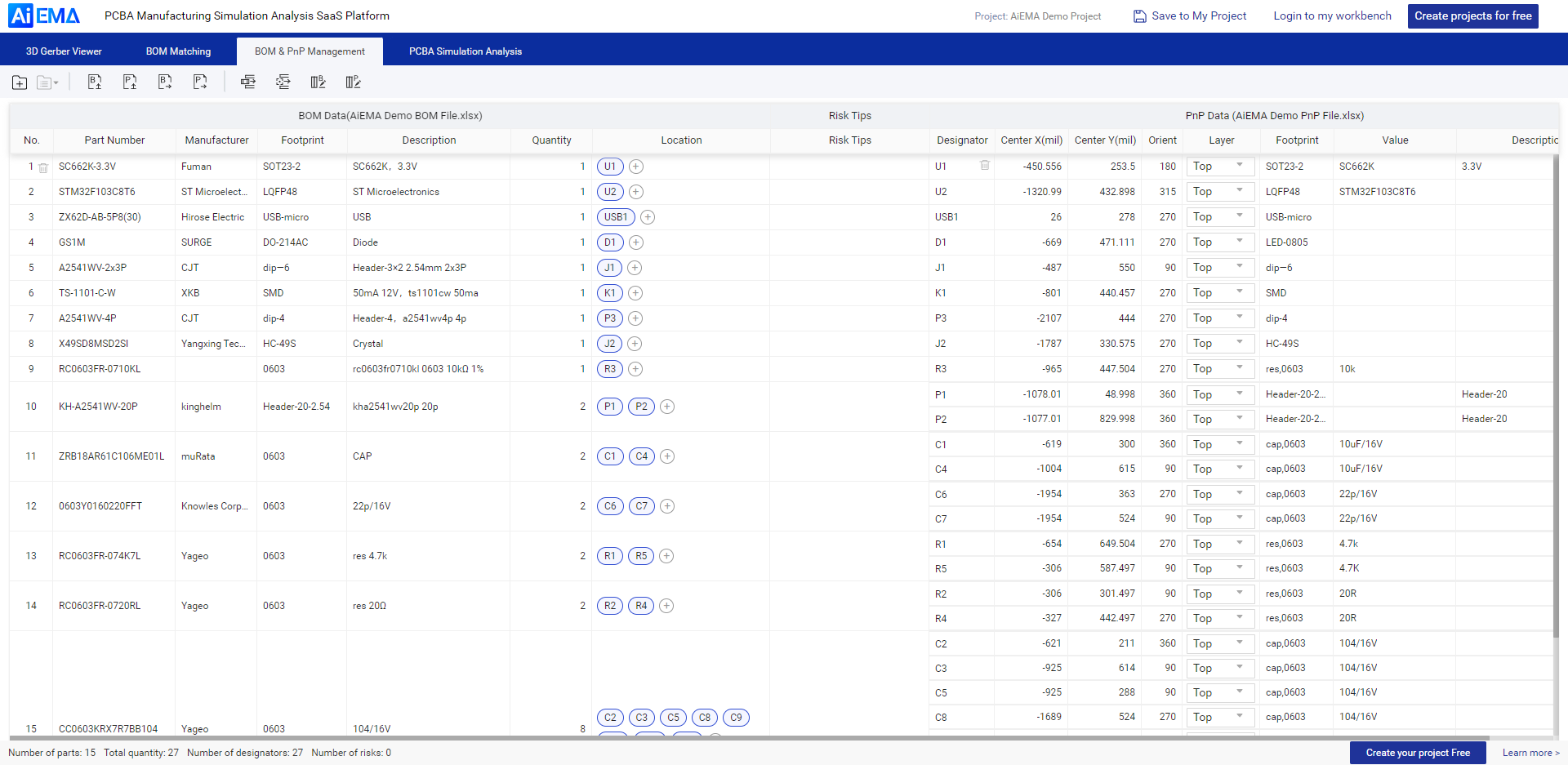 4) PCBA simulation analysis
The PCBA simulation analysis module will simulate the finished PCBA board according to the information you provide, that is, you can view the 3D view after the components are assembled on the board. At the same time, risk pre-inspection can be performed through the DFM function. If there is an assembly problem, it will prompt you with risk warnings and avoidance suggestions for the corresponding component number. You can optimize your layout design, component selection, etc. accordingly.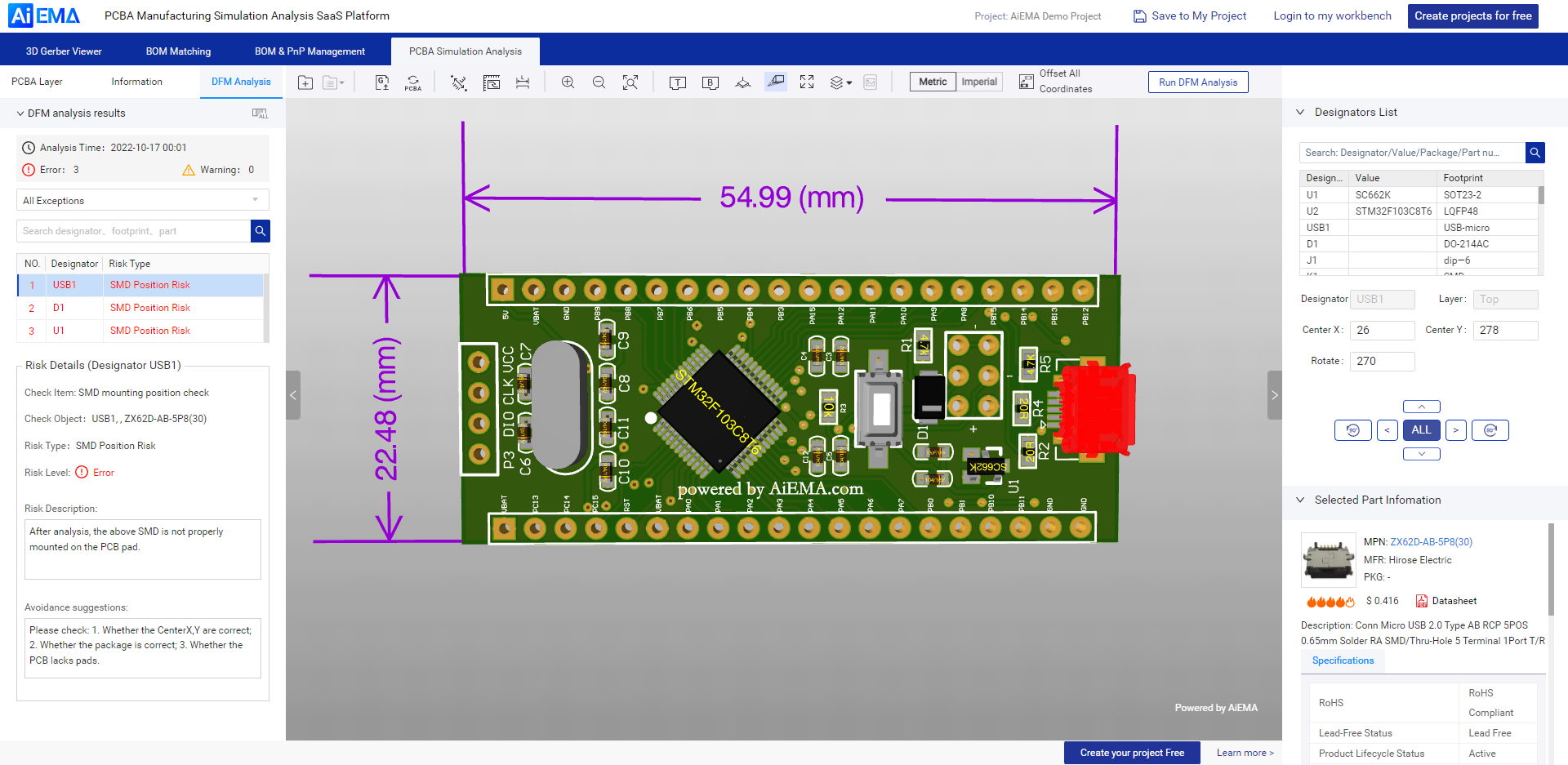 3. Project sharing
You can share your own projects with team members, and you can also accept other people's projects to share to achieve the role of data sharing. In order to prevent project information from leaking, you can set access methods and open modules.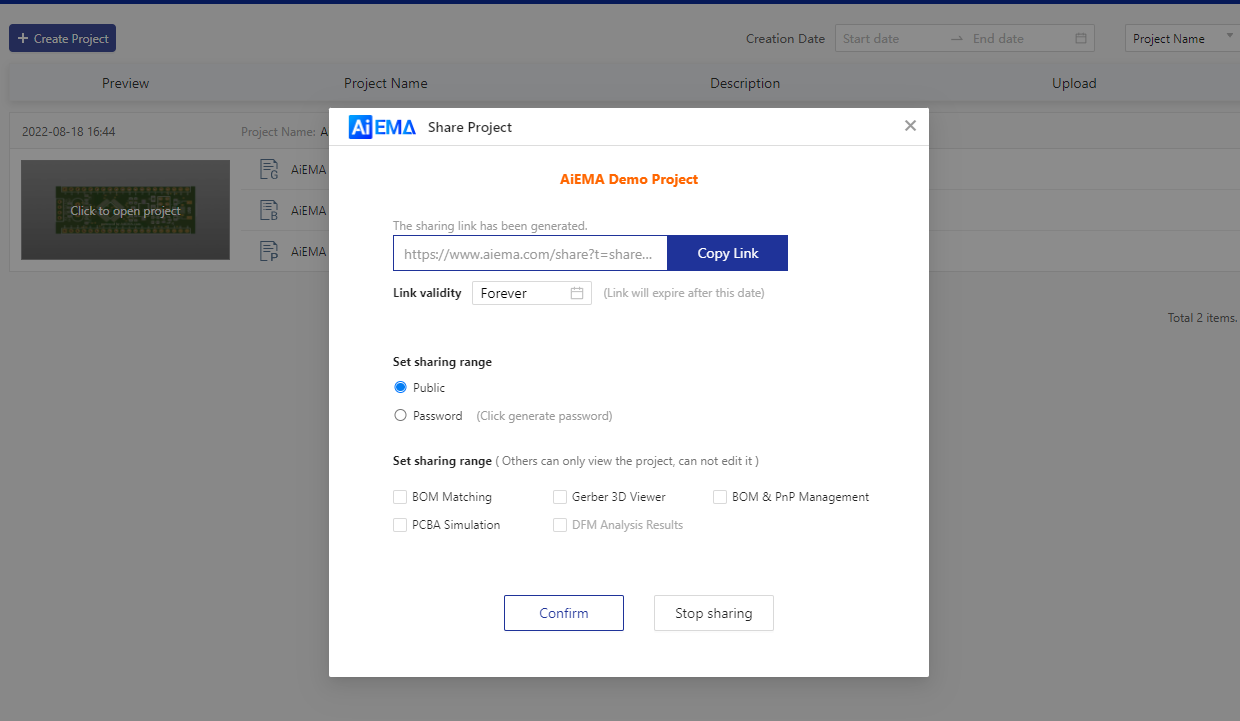 If you encounter problems during the above process, please contact support@aiema.com.